Founded in 1933, Modern has lived up to its name by keeping pace with changes in the automotive industry, marketplace, and the needs of its customers. Since opening its flagship dealership,
Modern Chevrolet
, the Network has grown to include
Modern Nissan
,
Modern Toyota
,
Modern Infiniti in Winston-Salem
,
Modern Infiniti in Greensboro
,
Modern Nissan of Concord
,
Modern Nissan of Lake Norman
,
Modern Hyundai of Concord
,
Modern Toyota of Boone
and most recently
Modern Subaru of Boone
.The Fowler family, now including its fourth generation, remains trendsetters with innovative facilities, diversity of brands, and state-of-the-art services. And most importantly, the Fowlers continue toput primary emphasis on integrity and customer service. No matter how other things change, Modern's commitment to its customers stays the same.
"My grandfather was in several businesses before he got in the car business. He was a tobacco farmer, he was in construction, I think at one point he was a mule trader... I guess that led into him being talked into buying into this dealership in 1933 that was going broke during the great depression. So he got the dealership back on its feet and started to make a viable business out of it. Not long after that, he had some health issues and he asked my dad to come help him at the dealership.
"My dad did every job there was at the dealership. I got a picture of him with a broom in his hand... I mean, I'm sure he did everything, as my grandfather probably did at the very first. And then World War II came and there was a shortage of everything. There were no new cars to sell, there were no parts... at one point, we were down to 12 employees including my dad. They sold used parts, used tires, pumped gas, made parts, did repairs as best as they could on cars... sold what few used cars were available. There were no new cars to sell.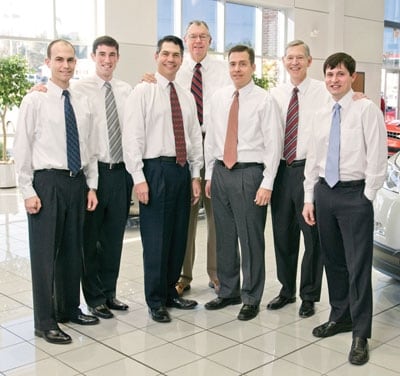 "You know, there's been lots of ups and downs over the years. One constant has been trying to
treat customers with respect, treat our employees the same way, create a great environment for customers to come in and feel comfortable.
"Fred was always interested in being in the business. He just, from a young age, wanted to be in the car business. He was around it and I think he loved it from the start. I wasn't so sure what I wanted to do and I had the opportunity to work at another dealership for a year in Chicago. That was a great experience for me and I decided then that's what I wanted to do. We have the fourth generation in the business now, which we're very proud of that. Fred has three sons: Omnia, West, and Brad, and I have two: Lewis and David. All five members of the fourth generation have different talents and they play different roles in the dealership. But one thing they all do is help keep us current.
Things are changing rapidly and we have lots of younger customers... lots of different ways of communicating with them. And we're staying on top of that with the help of the fourth generation.
"We're all proud that it's been a family business since 1933 and that we're still involved, that now the next generation is involved and likes the business. So it's a source of pride on one hand, but it's also given us a constant. There's a thread from 1933 to today and hopefully into the future of treating customers with respect, doing the right thing every day, trying to give them value for their dollar. It's not that complicated. It's just what we do... what we've always done."
Rob Fowler
President | Modern Automotive