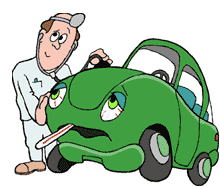 Vehicle Maintenance
Can you count on your car to give you what you need?
Can your car count on you to give it what it needs?
How can you be sure that your car is ready to go when you are? Let's think about "Preventive Maintenance" for a minute. Remember hearing that an ounce of prevention is worth a pound of cure? Just as regular check-ups in the doctor's office help you avoid major medical issues, regular vehicle inspections will help avoid expensive repairs, and, more importantly, help keep you from being stranded on the side of the road.
So I can make this really easy for you. There is simply no substitute for routine vehicle maintenance. The truth is, vehicle manufacturers have come a long way in reducing the amount of maintenance required to keep your vehicle in good working order. Compared to vehicles built before 2005, today's vehicles only require a fraction of the maintenance and repairs. But what may not be as easy is finding a service provider who will help you take care of your vehicle without making you sick enough to be back in the doctor's office!
Most people think that vehicles have gotten so complicated that one would have to be highly trained to know what needs to be done. The truth is that although the vehicle's electronic components have evolved substantially, they require little or no maintenance and rarely are what will leave you on the side of the road.
The best advice is to stick to the basics. Here's an easy way - think about the word BOBCAT:
B- Battery
O- Oil
B- Brakes
C- Coolant (Anti-freeze)
A- Air Filter
T- Tires
Although this list is certainly less than all inclusive, it covers the basics that should be checked or serviced on a regular basis, usually about every 5,000 miles.
Now, back to finding a good service provider. Here are some suggestions:
Try to avoid the mass merchandisers. I won't mention any by name but you know who they are. Many of these chains are masters at selling you unnecessary maintenance and repairs so it's often much better to stay with a privately owned business. Unlike the mass merchandisers, locally owned and operated businesses are tied to the community and have a vested interest in their reputation.
It's always a good idea to read any reviews that are available and if there aren't any available I would probably keep looking.
Call me crazy but the dealership is usually one of the best options. Many people don't stop to think that although dealerships represent a vehicle manufacturer, most are privately owned and operated, employing people living within the community. Added to this is the benefit of factory-trained technicians and original equipment parts that are warrantied at every dealership of the same manufacturer.
The bottom line is, whoever you decide to entrust with the maintenance and care of your vehicle, doing a little homework can save you a really big headache, and staying on top of the maintenance will keep you, and your car, healthy.