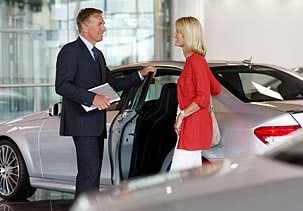 Stress-Free Buying
So you want to buy a new car. It's exciting and scary and you've already got that new car smell swirling around in your head. You've been thinking about what vehicle would be best to convey you in the style you deserve, but you're still a bit overwhelmed with the purchase process, and the one thing you fear most – will I get a good deal? Actually, this is probably the most stressful part of buying a car, followed closely by ensuring you are getting enough for your trade. Then there's dreading that back and forth between you, the salesperson, and that "Oz-like" manager who is controlling everything from behind the curtain.
So what can you do to speed up the process and feel more confident you are in control? 3 words…Research. Research. Research.
Being prepared makes all the difference when you step on the lot. Here are some tips that will help.
Research Model and Price. There are many resources available to help you narrow down which brands you are interested in and the price you should expect to pay. Factory or dealer websites provide excellent information on models, options, inventory and price. And one of the top industry resources online for pricing is www.edmunds.com. Having an idea what you should pay will help you get to the bottom line a lot faster.
Research Trade-In. Two things to know - Dealerships do not give you retail value, and the condition of your vehicle will affect what it is worth. Kelley Blue Book is the industry standard that most dealerships use to determine pre-owned vehicle values. And you can now access this same information online at www.kbb.com. One key point - be honest about the condition of your car so as not to inflate your expectations. Nobody wants to be told their baby is ugly, but even if your car got you through high school and college and you think it's the cutest thing ever, sentimental value does not equal dollar value.
Research Dealerships. Not all dealerships are created the same. To find out which dealerships to consider, get referrals from people whose opinion you trust. Also look online for ratings such as the Better Business Bureau, online consumer reviews, and industry awards given by manufacturers. These awards, such as Toyota's President's Award or Nissan's Owner First Award, are based on strict criteria in every aspect of dealership management, including customer service ratings from actual customers.
Another option to speed up and simplify the process is buying online. Although it may seem like a big task to undertake, many dealerships offer online buying services that will allow you to get information on the vehicle you want, negotiate price, get a trade-in value, and do the paperwork before you've even stepped foot in the dealership. (We've had customers who wanted to surprise a spouse with a new car and did everything by email and phone. They then brought their spouse in and picked up the car, with a big red bow attached!) Once everything is finalized, you just stop in and sign the papers. As long as your trade-in is in the condition you provided, you are good to go.
Now that you're prepared, go get the vehicle you want and have fun, not stress! You'll be enjoying that new car smell in no time.
Christie Walin is Director of Marketing for Modern Automotive. You can reach her with questions or comments at askchristie@modernauto.com.